Hello everyone. For those of you who may be interested, this is a web site that I frequently use and have signed up for updates. I find it educational, as it gives the patients sx, test results etc, and then you have the opportunity to determine what the "diagnosis" is .....of course from an allopathic perspective. Below is a sample.... The url is
http://cme.medscape.com/viewarticle/702329?src=emed_case_nl_0

A 31-Year-Old Woman With a Painful Right Wrist CME/CE

Djamil Fertikh, MD
CME/CE Released: 05/07/2009; Valid for credit through 05/07/2010
processing....
A 31-Year-Old Woman With a Painful Right WristBackground
[
CLOSE WINDOW
]
<blockquote>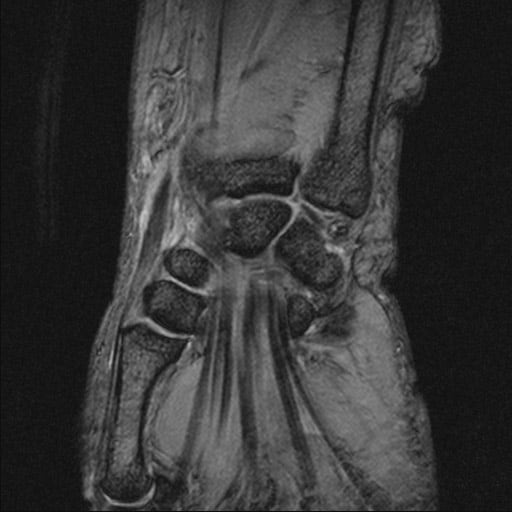 </blockquote>
A 31-year-old woman presents with a 5-month history of progressive right wrist pain following delivery of her baby girl. The patient claims that the pain has become so severe and disabling that it has significantly affected her ability to perform daily activities. The pain is particularly intense when she picks up her child. The patient is a software engineer by training, but she is currently on maternity leave
and is staying at home to care for her newborn baby. She lives in a single-family house with her husband and their 2 dogs. She denies having any fever, chills, or any other associated systemic symptoms. She has no remarkable past medical history; her surgical history is only remarkable for appendicitis when she was 13 years old. She is not taking any medications, except for recent daily acetaminophen use to
alleviate her wrist pain. The acetaminophen has provided only mild and inconsistent improvement of her pain. She denies smoking cigarettes but does admit to drinking a glass of wine on occasion. She does not use any illicit drugs.
On physical examination, the patient is not in any apparent discomfort. Her oral temperature was 96.3°F (35.7°C). Her pulse has a regular sinus rhythm, with a rate of 88 bpm. Her blood pressure is measured at 145/75 mm Hg. No skin rash or discoloration is noted. Her head and neck examination is unremarkable. Her lungs are clear to auscultation, with normal respiratory effort. Her abdomen is soft and nontender to deep palpation. There is no evidence of organomegaly. The patient's reflexes are normal and symmetrical. Close examination of her right wrist shows mild but definite soft-tissue swelling just proximal and posterior to the radial styloid. There is no associated erythema over the area of pain, and no pain is elicited on palpation. There is exquisite pain at the thumb with the Finkelstein maneuver (a specific maneuver in which the thumb is placed in the closed fist and the affected hand is tilted towards the little finger, into ulnar deviation).
Her laboratory workup includes a complete blood count, with normal red and white blood cell counts and no thrombocytopenia. The erythrocyte sedimentation rate (ESR) is mildly elevated. Her basic metabolic panel is normal. Her serum rheumatoid factor is within normal limits. The antinuclear antibodies (ANA) are within the normal range. Radiographs of the right wrist fail to reveal any bony abnormalities. A magnetic resonance imaging (MRI) scan of her affected wrist is performed (see Figure 1).
Questions answered incorrectly will be highlighted.
What is the diagnosis?
Hint: The condition is caused by overuse, classically among mothers of infants repetitively picking up their children.
Carpal tunnel syndrome
Stress fracture of the scaphoid
Bursitis
De Quervain tenosynovitis
References



Posts

: 9


Join date

: 2009-05-04




---
Permissions in this forum:
You
cannot
reply to topics in this forum